Proinversión agency will award four major contracts in autumn regarding sanitation and water treatment in the departments of Lima y Libertad. Proinversion Promotion Agency for Private Investment in Peru, expects to award next month from October 3 major contracts for sanitation and wastewater treatment in the department of the nation's capital, Lima.
Furthermore, Proinversión expects to finalize by late November the bidding process of another ambitious project of construction and maintenance in the North of the country, particularly in the department of Libertad: This is the third phase of channel development will lead water from the Santa River to the north of the city of Trujillo, over 250 kilometers.
Further information: http://www.proinversion.gob.pe/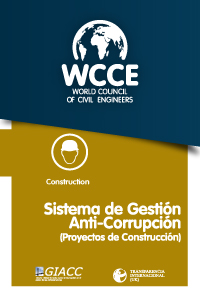 The Project Anti-Corruption System (PACS) is an integrated and comprehensive system designed to assist in the prevention and detection of corruption on construction projects. It uses a variety of anti-corruption measures, which can be integrated into project management. These measures impact on all project phases, on all major participants, and at a number of contractual levels. PACS comprises the PACS Standards and the PACS Templates.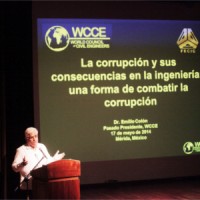 The World Council of Civil Engineers Past President Emilio Colón, declared that the construction sector has been identified as responsible for large economic losses in Mexico by corruption during his keynote speech lecture "Corruption and its impact on engineering: a way to fight corruption " made on the last day of the Sixth National Mexican Congress on Infraestructure Management professionals organized by the Mexican Association for Building Project Management.
In this context, he explained that corruption in construction is not specific to engineers, but also expands to architects, and financers, contractors, subcontractors, the three levels of government, banks, land developers, NGOs, academia and the media.
The Ministry of Transport and Communications (MTC) announced that the Government of Peru will invest a total of U.S. $ 9.555 million on roads until 2016, when the presidential term ends Ollanta Humala. The Deputy Transport Minister Alexander Chang, told the official news agency Andina that 69% of that amount (6,571 million dollars) correspond to public investment and 31% (2.984 million) to public-private partnerships (AAP).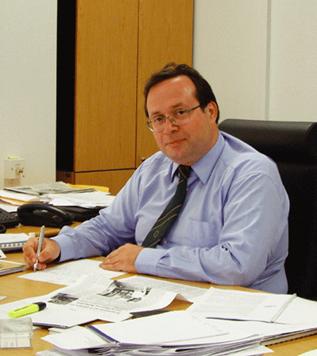 Past October 4th, ECCE Past President Vassilis Economopoulos passed away in Athens, Greece. An enthusiastic and dedicated worker towards the highest professional standards of the engineering profession and its efficient commitment to society, he has seeded with his contribution his legacy, not only in Greece but throughout the world. He has been was a teacher, mentor, professor, colleague but mostly a friend, impacting and making a difference wherever initiative in which he became involved.
Current Chairman on ECCE's Standing Committee on Associate Membership, his commitment to ECCE has been total since its inception in 1985, bearing ECCE's presidency during the period 2008-2010. He has held all its different posts and has been member of ECCE's Executive Board uninterruptedly since 1995.
Past January 27th, WCCE Founding President José Medem Sanjuan passed away in Madrid, Spain. A visionary and a leader for a better world, and with the highest professional standards of the engineering profession, not only in Spain but throughout the world is his legacy. He was a teacher, mentor, professor, but mostly a friend, impacting and making a difference whether he became involved. Past President of the European Council of Civil Engineers ECCE, Past President of the European Federation of National Engineering Organizations FEANI, Past President of the World Federation of Engineering organizations WFEO, and Founding President of his last great project, the World Council of Civil Engineers, among the multiple professional organizations in which he was involved. A distinguished member of the PanAmerican Academy of Engineers since its foundation. He leaves us with a great legacy and path for all of us to follow.
We raise our prayers for his widow, Frida, and his sons, daughters and grandchildren for the irreparable loss. 
A Funeral Mass will be 
held at 8:00 PM in Madrid, next Wednesday 4th February at Nuestra Señora de la Moraleja Church, 
Calle Nardo, 44, 28109 Alcobendas, Madrid.