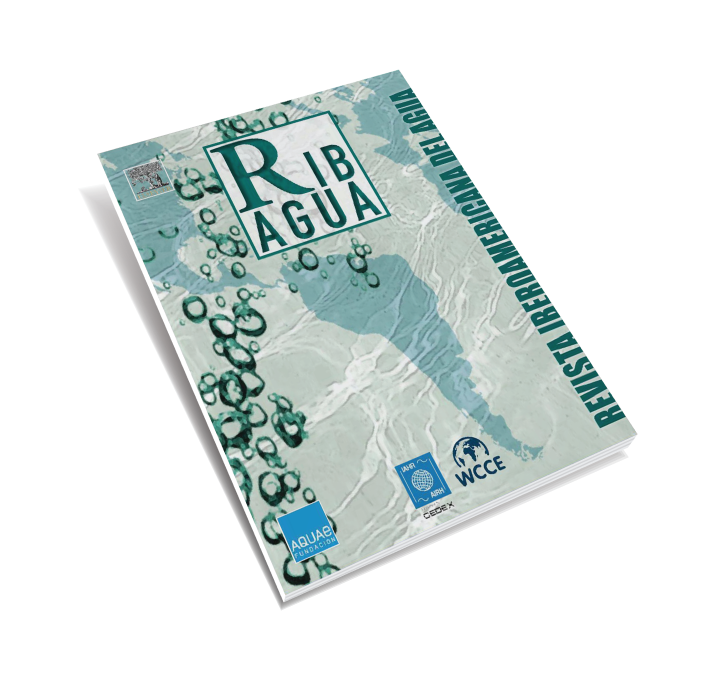 Best practices and innovative research to solve Iberoamerica water issues.
RIBAGUA is a joint journal edited between IAHR - International Association of Hydroenvironmental Resources and WCCE  - World Council of Civil Engineers 
Publisher: Taylor & Francis
Frequency and format: 2 online issues per year. Hard copies can be requested on demand.
Submission languages: Spanish and Portuguese 
Article submission
Temporarily they should be submitted by email through: This email address is being protected from spambots. You need JavaScript enabled to view it.
Goals
Promote technological and scientific development on issues associated with water - continental and maritime - in Ibero-America, spreading the engineering and research work that develops in the region to a global audience.

Disseminate relevant water topics in Ibero-America.

Contribute to bringing science and technology closer to water issues in Ibero-America (and by extension in the world), to facilitate the access of professionals to recent innovations in research, and scientists to new practical developments that can give rise to new discoveries.

Foster the exchange of ideas between water professionals (engineers, lawyers, biologists, decision makers, etc.).

To provide a discussion forum in Spanish and Portuguese, of the most important water issues in its geographical area.
Contents
Scientific and technical articles on the following topics:
Supply, sanitation, purification and reuse

Water quality

Climate change

Desalination

Port development

Ecohydraulics

Water Economics

Submarine Emissaries

Erosion and sedimentation

Hydraulic and marine structures

Experimental studies: physical, numerical modeling and measurements in nature

Hydro-environmental studies

Extreme hydrological events: floods and droughts

Hydrology

Management of water resources: surface and groundwater

Management of rivers and coasts

Hydroinformatics

Environmental impact

Hydraulic and marine engineering

Instrumentation

Hydraulic machinery

Fluid mechanics

Nexus water and energy: hydroelectricity, offshore, wave, tidal and currents

Irrigation and agricultural uses
 

 

Editor:

Fabian Bombardelli
Universidad de California, Davis
USA

Co-editor:

Ramiro Aurín
Presidente, Intercom Strategys
Spain
Editorial Board - Research community
Marcelo García, Universidad de Illinois, Urbana-Champaign, USA
Luis Garrote, Universidad Politécnica de Madrid, Spain
Yarko Niño, Universidad de Chile, Chile
Adrian Pedrozo Acuña, Instituto de Ingeniería Universidad Nacional Autónoma de México, Mexico
Carlos E. Puente, Universidad de California, Davis, USA
Jeronimo Puertas, Universidad A Coruña, Spain
Agustin Sanchez-Arcilla, Universidad  Politécnica de Cataluña, Spain
Francisco Taveira-Pinto, Faculdade De Engenharia Da Universidade Do Porto (FEUP), Portugal
Editorial Board - Practitioner community
Luis Balairón, Centro de Estudios Hidrográficos, CEDEX, Spain
Lucas Calvo, Autoridad Canal de Panama, Panamá
Raquel Duque, Estudios y Asesorías, Colombia
Victor Bourguett, IMTA, Mexico
Julio M. Kuroiwa, Universidad Nacional de Ingeniería, Perú
Angel Menendez, Instituto Nacional del Agua, Argentina
Eduardo Mestre, CONAGUA, México
Gonzalo Rodríguez Moreno, Aqualogy, Spain
Ramon Vazquez, EGIS EAU, Francia
Comité Editorial
Angel Luis Aldana, Prohimet, Spain
Carlos M. Escartín, Subdirección General de Gestión Integrada del Dominio Público Hidráulico, Spain
Hector Daniel Farias, Universidad Nacional De Santiago Del Estero, Argentina
Juana Fortes, Laboratório Nacional de Engenharia Civil (LNEC), Portugal
Dunia González, Asociación CFE-PYPSA-CVA-ICA, Ecuador
Amparo López, Universidad Politécnica de Valencia, Spain
David López, Centro de Estudios Hidrográficos - CEDEX-, Spain
Ismael Piedra-Cueva, Instituto de Mecánica de Fluidos e Ingeniería Ambiental, Uruguay
José Francisco Sánchez González, Centro de Estudios de Puertos y Costas - CEDEX-, Spain
Jorge Matos, Instituto Superior Técnico, Dept. de Engenharia Civil, Portugal
Jose Rivarola Sosa, Itaipu Binacional, Paraguay
Jose Vargas, Universidad De Concepción, Chile
Stefan Wuertz, Universidad UC Davies - California, USA

Endorsed by 
Conferencia Directores Iberoamericanos del Agua                                                       
Sponsor
Foundation was born with the desire to become a national and international reference think tank on water issues, from a holistic perspective.
Editorial